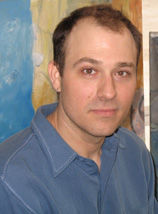 Shane Van Pelt recalls his early life as one of "appalling poverty, ignorance, and the need to instill dying traditions at the end of a whip."  His survival response was to draw and write with zeal, about fantasy worlds, expressing himself through music, acting, painting, and being the class clown. 
Shane was born December 26, 1974, in the military hospital in Lahnstuhl, West Germany.  His mother turned 16 just before his birth. The marriage was brief and near his first birthday, Mother and son headed to her family in Texas where her father was the county sheriff.  Childhood memories are not kind: violence, exposure to inappropriate behaviors, arguing parents, and learning the man he thought was daddy was really mom's second husband.  At about age 10, Shane finally met his father who came to visit before going to jail for 8 years and related that his grandfather was also serving time.  He was often on the move, shuttling between periods in Yakima, Washington and Gallup, New Mexico as life went from bad to worse.   He recalls his 8th grade year as a huge upheaval and being destitute in Washington, living in a tent until government housing became available.  Just before his 16th birthday, Shane was kicked out of his home by his mother's red neck boyfriend, allegedly for being gay. He lived in a foster home, tried to stay in school, finally dropped out.  Shane says "I kept my sanity by understanding that I am more than the sum of my experience" and remembering, "That which doesn't kill me, makes me stronger."
As a youth he would draw pictures, mainly of characters from stories he loved by L. Frank Baum, J.R.R. Tolkien, and Lloyd Alexander.  Even then his drawings and books were often confiscated or burned by fanatic religious family members. So in the autumn of his 16th year, he moved to New Mexico on his own, and soon had his own studio in downtown Gallup.  He was able to experience the New Mexico art scene, watching, listening and learning by osmosis from other artists. 
In his early twenties Shane met and married the poet and author Elizabeth Cohen. They moved to New York City in 1996 and here Shane's art was well received in art spaces of cafes, coffee houses, and book stores.  But in 1998 he decided to take a break from showing his drawings and paintings to concentrate on developing a more mature body of work.  In 1999, they moved upstate because "we are not raising a daughter with a target on our backs," and "after 9/11 I knew I made the right choice." 
Now, we are pleased to be presenting the works that Shane has been creating over several years.  He has developed his capability and techniques remarkably and focused his inspirations into extraordinarily well crafted paintings.  The works are often complex and intriguing, usually topical but subtle.  In a short period he has developed a large following of collectors for his works and is included in the permanent collection of the American Visionary Art Museum.