Lawrence Amos
         Born in East Prairie, Missouri on June 14, 1944, Lawrence Amos was one of 11 children in a poor laborer's family.  He spent early years in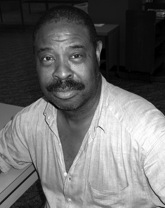 Mississippi and school years in Chicago, before dropping out at age 17 to join the Army.  The Army trained him as a medic because he says he was "big and strong enough to hold up one end of a stretcher".  Actually, Lawrence is exceptionally bright and well read, although so reticent one easily could be deceived, unless one is watching him play chess or completing the New York Times crossword puzzles in ink.
         Amos went to Viet Nam in time for the Tet Offensive and volunteered for a second tour. Then came tours in Germany, Walter Reed hospital in Washington, Germany again and Louisiana.
         He had married and his wife urged him to "get out" and return to the DC area, her home.  He worked for a while in a psychiatric hospital, then for 30 years in a retirement home before retiring himself from what he called a very stressful job.
         Amos had no training in art when he began to make drawings and paintings in his spare time. As a schoolboy, he had done all sorts of illustrations when they were needed for classrooms, year books, and the like.  His only exposure to art was visits to museums while awaiting connections for his long bus commutes going back and forth between home and work.  Primarily his art evolved from his very perceptive observations of life in the neighborhoods and on the streets.  Add in a good sense of humor and satire, and rather skillful drafting and you have Amos's art.  He says he paints what "just pops into his head" but that he works out the entire painting before he begins.
         Amos's works are always brightly colored and usually complex.  While their titles indicate some theme, there are often numerous points to ponder in a single work.  Paintings are humorous and often irreverent, but they are never cruel.  They just reflect life as Amos views it.  He cannot recall when someone first offered to buy his works but he has been in a number of group shows, had three one person show at the highly respected Athenaeum Art Center, exhibited at the American Visionary Art Museum and is included in many private fine art collections.
        Lawrence Amos died July 17, 2014.