Dorothy Strauser
Biography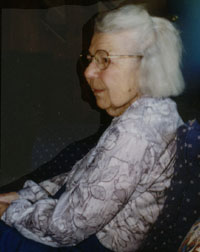 Dorothy Strauser was an artist from East Stroudsburg, Pennsylvania.  Although she says she took an art course for school teachers during her education at Bloomsburg State Teachers Collage, she was essentially a self-taught artist. 
Besides being a creative artist in her own right, she was the wife and strongest supporter of her husband, the renowned modernist painter Sterling Strauser.  They were both avid art collectors.  Furthermore Dorothy was the discoverer, mentor and best friend to numerous folk artists like Justin McCarthy and Jack Savitsky. 
In addition to painting, Dorothy designed and constructed complex, gorgeous hooked rugs. She has a significant following of collectors seeking her works.  Her original designs are brightly colored expressions of that traditional American craft displaying unique views of life. Although age and illness took much of her strength during her later years, she continued to paint beautiful watercolors, primarily in floral motifs, which are warm and charming.
Dorothy had one-person shows at the Everhart and Burliuk Museums and exhibited at Bertha Shafer and Frank Lee Galleries and the Museum of American Folk Art in New York City.
Dorothy Strauser passed away in May, 2005 at the age of 96.
Articles