James Harold Jennings
Biography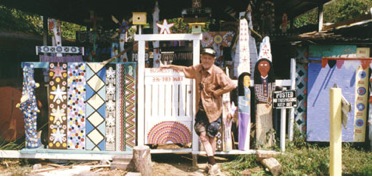 James Harold Jennings was from Pinnacle, in rural North Carolina. He dropped out of school after the fifth grade and was taught at home by his schoolteacher mother. He also read dictionaries, encyclopedias, Popular Mechanics issues, and National Geographic. These sources provided a diverse, if eccentric, education for the artist, traces of which can often be found in his artwork. Jennings worked for a short time on his family's tobacco farm. Later, he was a night watchman and a movie projectionist, but he left that job after his nerves "went bust."
The death of his mother in 1974 was a catalyst for his artistic impulses. He began using scrap lumber to make whirligigs, windmills, ferris fheels, indians, amazon women, angels and an assortment of animals, all of which he painted in bright colors and assembled in his yard. Jennings' work was influenced by dreams, visions and his occasional reading material. One series of pieces featured "tufgh women" beating up frightened, smaller men and was inspired by reading about Celtic and Amazon women. When inspiration failed, Jennings resorted to a favorite trick; he pressed his fingers into his closed eyelids and sought ideas in the blotches of color, which appear. Calling himself the "sun, moon and star artist," he frequently incorporated these symbols of nature in his works and included them with his signature.
From the late 1980s until his death he lived alone, without electricity, telephone, or running water. Jennings committed suicide in April of 1999, due to his fears concerning the impending millennium and his failing health.