Lawrence Lebduska
Biography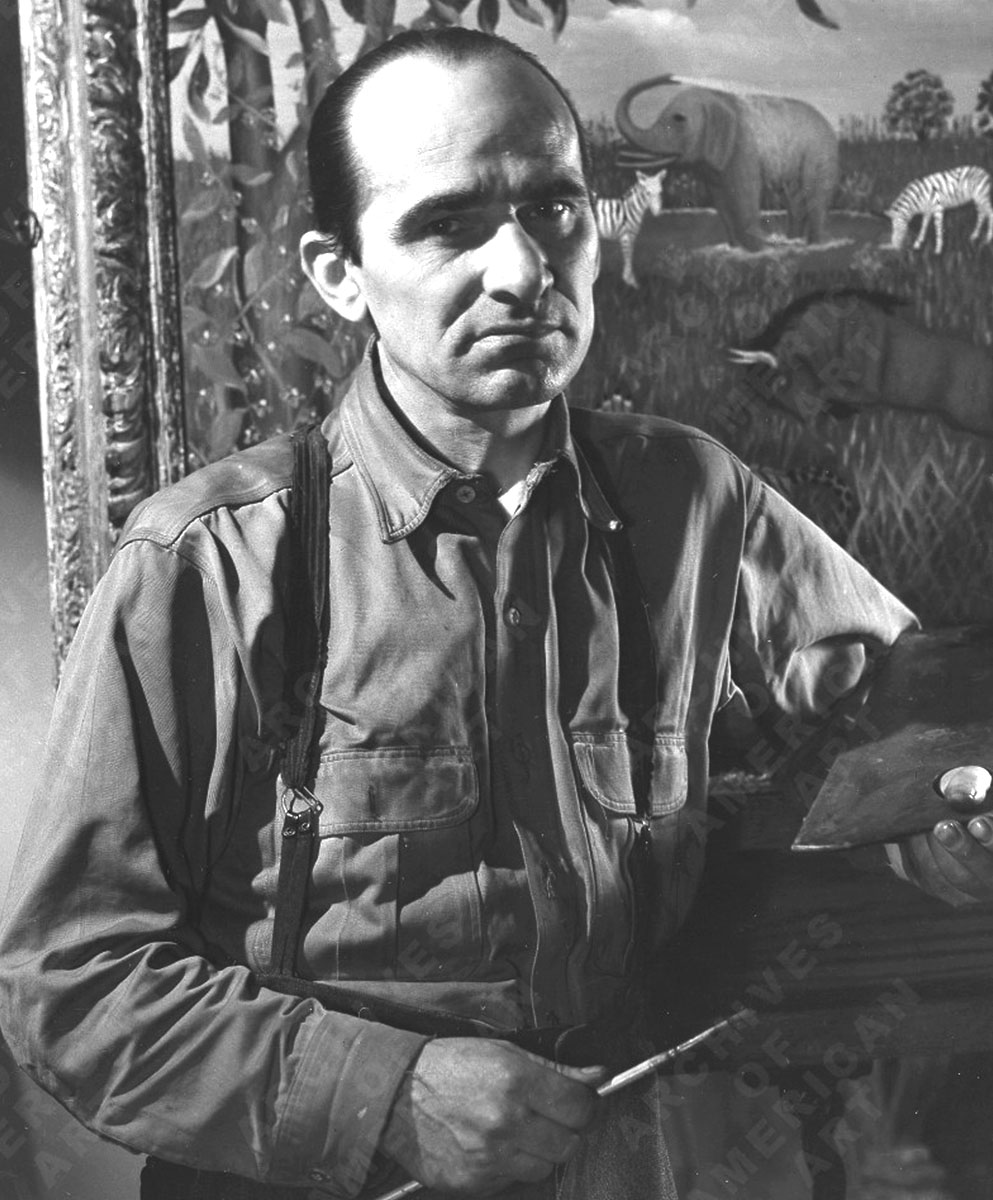 Lawrence Lebduska was born to German parents in Baltimore, Maryland, in 1894.   His life is one of the most interesting of American self-taught artists in the 20th Century.    His father was in America on behalf of the Leipzig-based stained-glass firm of Flieder & Schneider and returned to Leipzig when Lawrence was five.  Lebduska was educated in Leipzig and studied the craft of making stained-glass at a school run by his father's company.  Then with no formal training in art, he began to paint by using his knowledge of color gained from making stained-glass.Returning to the United States in 1912, Lebduska lived in Baltimore and moved to New York a year later.  He received no formal artistic training. However, he did work painting murals and creating stained-glass decorations and murals for private homes in New York.
Lebduska submitted his paintings to group shows around New York, notably at the Opportunity Gallery and the Bourgeois Gallery.  Lebduska began to achieve a great deal of fame in the 1930's when several major New York City galleries began to feature works by a variety of nonacademic artists.  Lebduska's work was recognized along with John Kane, Morris Hirschfield, Grandma Moses, and Horace Pippin. In 1936, the Contemporary Arts Gallery held a near sell out show of his works.   This exhibition was said to have influenced Abby Aldrich Rockefeller to begin her famous folk art collection.   Lebduska was also involved with the Works Progress Administration's Federal Art Project (WPA/FAP).
Ledbuska's fortunes turned for the worse with the advent of World War II.   He was afflicted by disease and beset by alcohol such that in the 1950's his work gradually began to be ignored.   Lebduska was aided then by the Long Island dealer Eva Lee, who helped him to recuperate and start painting again.  He started showing his work again at venues like the Krasner and Tutti galleries in the early 1960's.  Lebduska died in 1966. 
Since Lebduska's death, he has regained his status in the annals of American art history as a powerfully innovative and talented artist, all the more amazing since he was self taught. His work is in the collections of the Museum of Modern Art, the Albright-Knox Art Gallery, Buffalo, and the University of Arizona, among others.
The primary subject matter for most of Lebduska's work is animals, generally in fierce situations. He once lived with an uncle who bred horses in Orangeville, Maryland, where he had the opportunity to observe animals and their temperament. He also researched and read books describing animals' colors, forms and habits. These observations led to work that might be labeled "folk-fantasy".