Sybil Gibson
Biography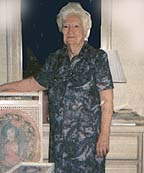 So much has been written about Sybil Gibson that one hesitates to write, rather to just let her paintings speak for themselves. And they do. Marvelously. Working almost exclusively in tempera on found materials, especially brown paper bags and newsprint, Sybil Gibson created a large body of beautiful images.  While they appear as real people and objects to the eye, they are products of her imagination and are extraordinarly expressive, even evocative. Simple in one sense but wonderfully rich and dynamic.
Sybil Gibson was born in Dora, Alabama in 1908. She would have come from a prominent family for her father was a banker, merchant and coal mine operator. Sybil graduated from Jacksonville State Teachers College in Alabama and taught elementary school. In the 40's, health problems prompted  a move to Miami. There she married and taught school for ten years. Following the death of her husband in 1958, she seemed to be plagued by health and financial problems and later became somewhat reclusive. She even disappeared one week before her one-person show at the Miami Museum of Modern Art was to open in May, 1971. Later, she reappeared in Birmingham, Alabama. Subsequently with failing health, she lived in nursing homes until she died in 1995.
At the age of 55, Sybil had begun to paint. She told how she discovered art by accident, when she admired some wrapping paper in a store and decided to surprise her family with gifts wrapped in paper she had painted. Using tempera poster paint and brown paper bags she created her first works. Later she wrote, "…other eyes saw them—eyes that knew something about art. People became quite enthusiastic over them. I didn't know what to make of it." What she made of it was to continue, unfettered by hardships, to create beautiful paintings for the rest of her life and provide enormous enjoyment for those of us who are privileged to view them. Her works are in far too many museums and collections to list and comparisons to other fine artists too numerous to mention. Sybil Gibson is simply one of the truly great self-taught American artists.