Ted H. Gordon
Biography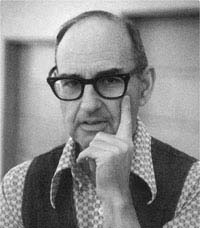 Ted H. Gordon was born in Louisville, Kentucky in 1924 and moved to New York with his family at the age of 14. After graduating from high school, he worked at numerous odd jobs such as messenger, clerk, apprentice, and bricklayer while sporadically attending various college courses. In 1953, he moved to the West Coast, married and settled down in San Francisco. In 1958, he graduated from San Francisco State College, with a major in social welfare.  Gordon then went to work in a state institution for the mentally retarded and took some additional college work at UCLA. Then he sought a less "stressful" occupation as a clerk. He worked with the Wadsworth Hospital at Los Angeles then transferred back to San Francisco where he worked at the Army hospital in the Presidio. Then after twenty-five years with the Federal Service, Gordon retired in 1987.
Gordon had no formal art training, his ability is a natural gift and self-taught. About the time of his marriage in 1954 he began drawing, rather like a series of doodles; mostly caricatures of the human visage and figure. There was a relapse of several years before he returned to this pastime; augmenting this original repertoire with stylized cats, birds, fish, flowers, mandalas, and designs.He finds especially fascinating the shape and form of the human physiognomy with its many lines and shadows; and its endless grimaces.
In addition to his social work and studies, it appears that Gordon has been influenced by his readings of Kretschmer and Sheldon, Physique and Character, "The Varieties of the Human Physique", and "Physique and Temperament", and his readings in anthropology. (Coon's "The Races of Europe" for example, with its many plates and illustrations.)
It has also been observed that much of Gordon's obsession with facial images stems from his own frustrating search for a personal identity, a quest which he feels exists in a less articulated form among many of his fellow citizens. Whatever the motivation for his obsession, the wonderfully detailed and intriguing works are a joy to view and study.
Gordon has had numerous solo and group exhibits in the United States and Europe. He is included in important private and public collections such as Le Musee de l'Art Brut, National Museum of American Art, Museum of American Folk Art, and the High Museum of Art to name a few.