Joaquín Pomes
Biography
Joaquín Pomés Figueredo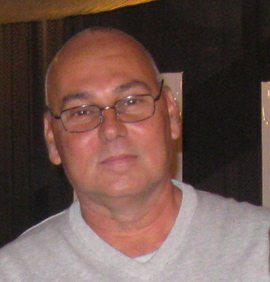 Joaquín Pomés Figueredo was born in 1964, in the city of Sancti Spiritus in Cuba. He liked to draw from an early age, filling any available paper with scribblings. His father was an office clerk and his mother was a teacher for children with special needs. Her death in 1981, when Pomés was just 17, was a loss from which he had difficulty overcoming.
Pomés attended the Instituto Superior Tecnico de Cienfuegos, now Universidad de Cienfuegos, graduating in 1987 with a degree in Industrial Economics. From 1989, he worked for thirteen years as a planning specialist at the "Melanio Hernandez" Sugar Mill in the town of Taguasco and later at the "Remberto A. Aleman" Sugar Mill in Guayos, both in the province of Sancti Spiritus. Also in 1989, Joaquín fell in love with and married Olga Santos Sosa, a graduate in Accounting and Finance from the University of Santa Clara. They have one daughter, Elizabeth.
Pomés continued to draw for himself in his spare time until the 1990's when Ela Rodriguez, a close and dear friend of his mother, showed his drawings to Antonio Diaz, the painter of Sancti Spiritus, who marveled at the art, and said that there was certainly something worth pursuing here. With that encouragement, Joaquín began displaying his work at group and individual exhibitions in Trinidad, Sancti Spiritus, and Havana.
At the end of 1999, Pomés decided to search out a different career path. In early 2000, he inherited a house in Boca near the sea, in the outskirts of the city of Trinidad, (today, a World Heritage site). He and his wife converted it into the "Sol y Mar" hostal. which they operate together with their daughter. Despite duties as chef, his new lifestyle change made him "master of his own time". He was able to increase both the quantity and complexity of his work and to fully exploit his desire to give form in pen and ink drawings into a myriad psychological and philosophical intricacies of life in Cuba. He prefers to work in black and white, because that is how he first started, but "...also because white represents for him light and the coming together of two colors, and black is the sum of colors and of all the possible colors."
He works intuitively, governed by a strong and instinctive drive for equilibrium. A central icon or figure is typical of his recent work, most often feminine, framed by a rich texture of botanical patterns, idiosyncratic repetitions, and combinations, always, with an overlay of ambiguity as to whether the figure is emerging, resisting, or resting. Evident throughout his work is his profound confidence in the communicative power of symbolism.
During a trip to Cuba, the painter Virginia Schofield became acquainted with Pomés's drawings and encouraged him to participate in international art exhibitions. In August 2014, Pomés was granted a visa to come to the United States to participate in his first exhibition outside Cuba at GALA Hispanic Theater in Washington, D.C.